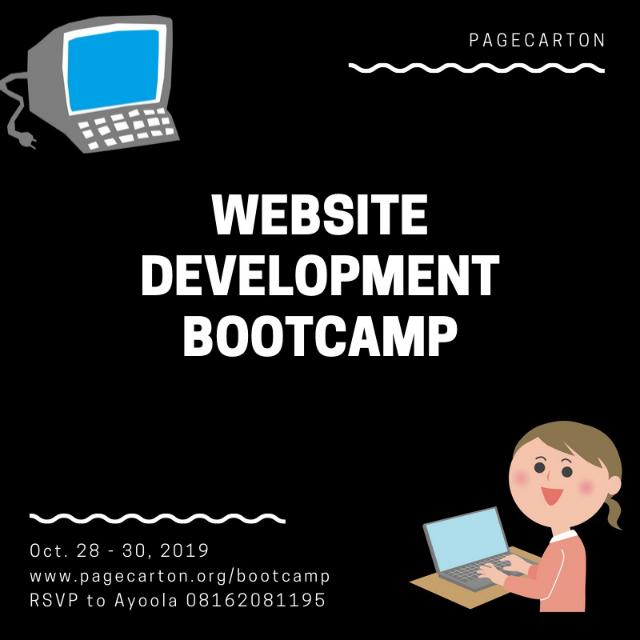 The website development bootcamp project started in May 2017 and it used to be fully sponsored and hosted by PageCarton and partners. But in 2019, we are introducing a subsidized fee to enable us reach more people and meet our goals of delivering a remarkable learning experience.
In the event, we bring together IT and internet enthusiasts from different parts of Nigeria together, facilitating learning in internet and web related tools.
About the Event
Our first bootcamp took place in May 2017 and it had in attendance 16 participants from different states of Nigeria and also different age groups and gender. In August 2017, we hosted 48 participants at the second bootcamp event. We usually turn down lots of applications because we have limited space for admission. We are continually looking for ways, partnering with reputable organizations in different cities in other to be able to serve more people. The event used to only hold in Ibadan, Nigeria but now, we are expanding the program to other major cities.
How many participants
Our target for the PageCarton Website Development Bootcamp is to host 100 participants monthly in major cities in Nigeria
Things to note:
The bootcamp is a 3-day event and we would have a full schedule between 10 am to 6pm daily.
We will serve light meals at specific intervals throughout the training periods.
No gatecrashing is allowed for security reasons. The specific venue is only shared with fully registered participants.
The training fee includes all the training materials, light refreshment and super-fast internet connection
Download Bootcamp Schedule ...
Admission
Our admission procedure is targeted to ensure only serious individuals get to come. At the end of the training, we aim to ensure our participants maximize this opportunity to get a boost in their knowledge in Information Technology
Although, the training would feature more innovative tools more than websites, participants would be expected to have website projects they intend to execute in mind. The training will major on solving real life problems by creating simple websites.
Certification
Starting in August 2017, we are introducing a certification system that will be offered after successful completion of the project that would be approved and started at the bootcamp. This is to further gear the participants towards continuing with their learning to a point where they have at least one completed project in their name. The project would reflect their learning through the bootcamp.